Delegation of "Mine Mark" Foundation conducted training for schoolchildren in Aghdam and got acquainted with the scale of destruction in Aghdam city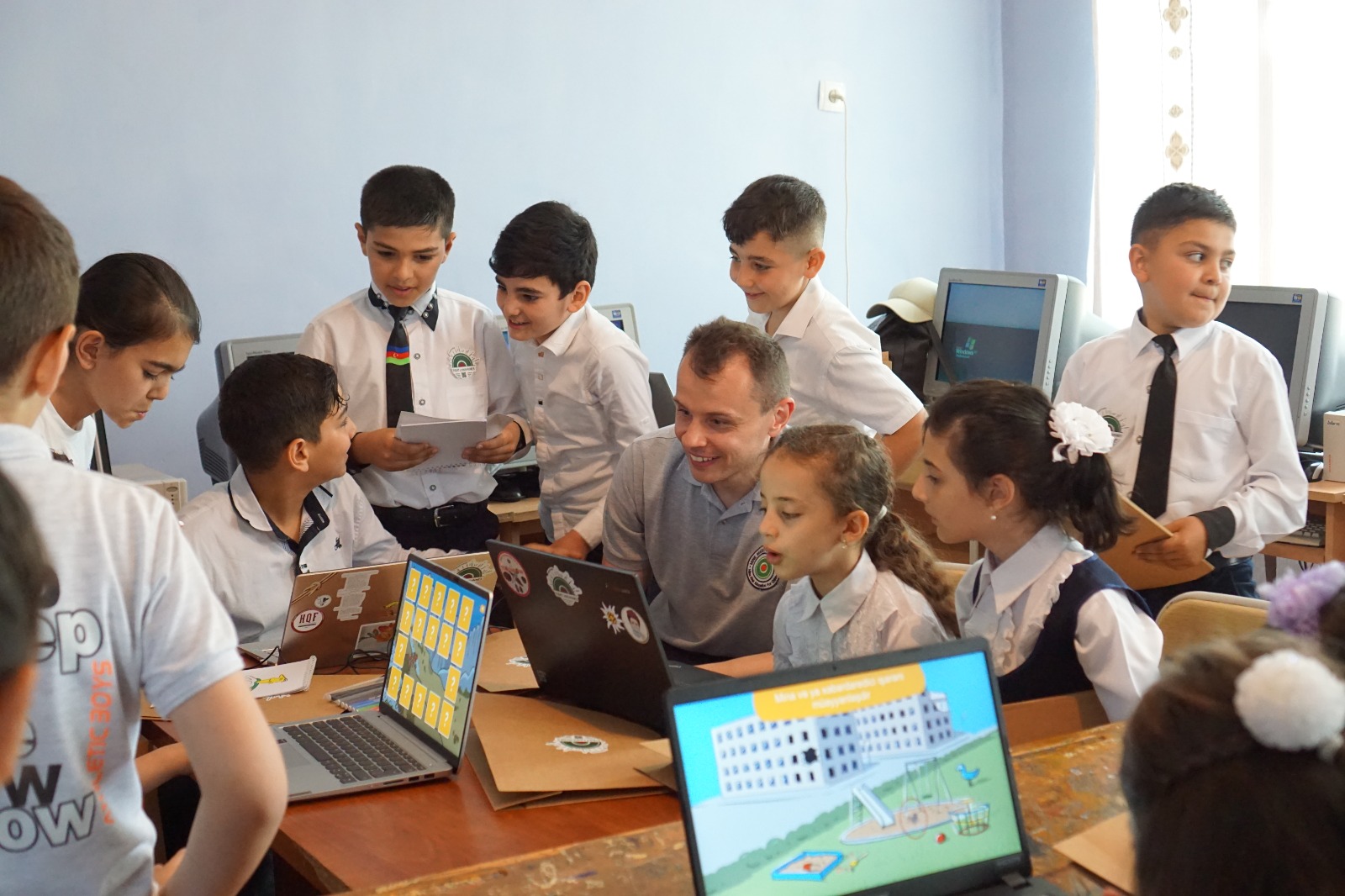 On June 14 a delegation of "Mine Mark" Foundation operating in The Hague, Netherlands visited Aghdam.
Within the framework of the visit, which took place with the joint support of the State Committee on Work with Diaspora, the State Committee for Affairs of Refugees and Internally Displaced Persons, an educational-interactive training was held for Primary School students on mine safety in lyceum-school with technical subjects bias No. 14 located in Dordyol settlement of Aghdam region.
During the training, it was emphasized that it is important to know the rules of proper behavior with mines and explosives on the eve of a great return to the liberated territories. The method of electronic applications and interactive games was chosen for easier understanding of the process. Coloring books, playing cards and booklets were distributed for students. Students and teachers who got acquainted with the electronic application welcomed the creation of this method.
During the visit, a delegation including experts from Germany, the Netherlands, Italy and North Macedonia visited "Imarat" complex, Martyrs' alley, Drama Theatre, Juma Mosque, Bread Museum and Shahbulag Castle, as well as mine burial areas in Aghdam. The guests witnessed the destruction and acts of vandalism committed by Armenians during the 27-year occupation of Aghdam.
Araz Imanov, an employee of the special representation of the president of the Republic of Azerbaijan in the liberated areas of Garabagh economic region (with the exception of Shusha), informed the guests information about the scale of the destructions, the mass placement of mines by the Armed Forces of Armenia in the Garabagh region, as well as in Aghdam, the official Yerevan did not provide all the maps, Reconstruction work carried out so far for the reconstruction of the city. The staff of Azerbaijan National Agency for Mine Action (ANAMA) (ANAMA) provided the guests with detailed information about the mine clearance process.
It should be noted that the innovative project of "Mine Mark" Foundation is being organized for the first time in schools in Aghdam region. The delegation of the non-governmental organization held an educational event in Jojug Marjanli village secondary school named after Novruz Aslanov in Jabrayil region in 2019 and the last day in Baku. It is planned to organize this training in various schools on a regular basis from the new academic year.