A video conference was held on the occasion of Youth Day
Tədbirlər
01 February, 2021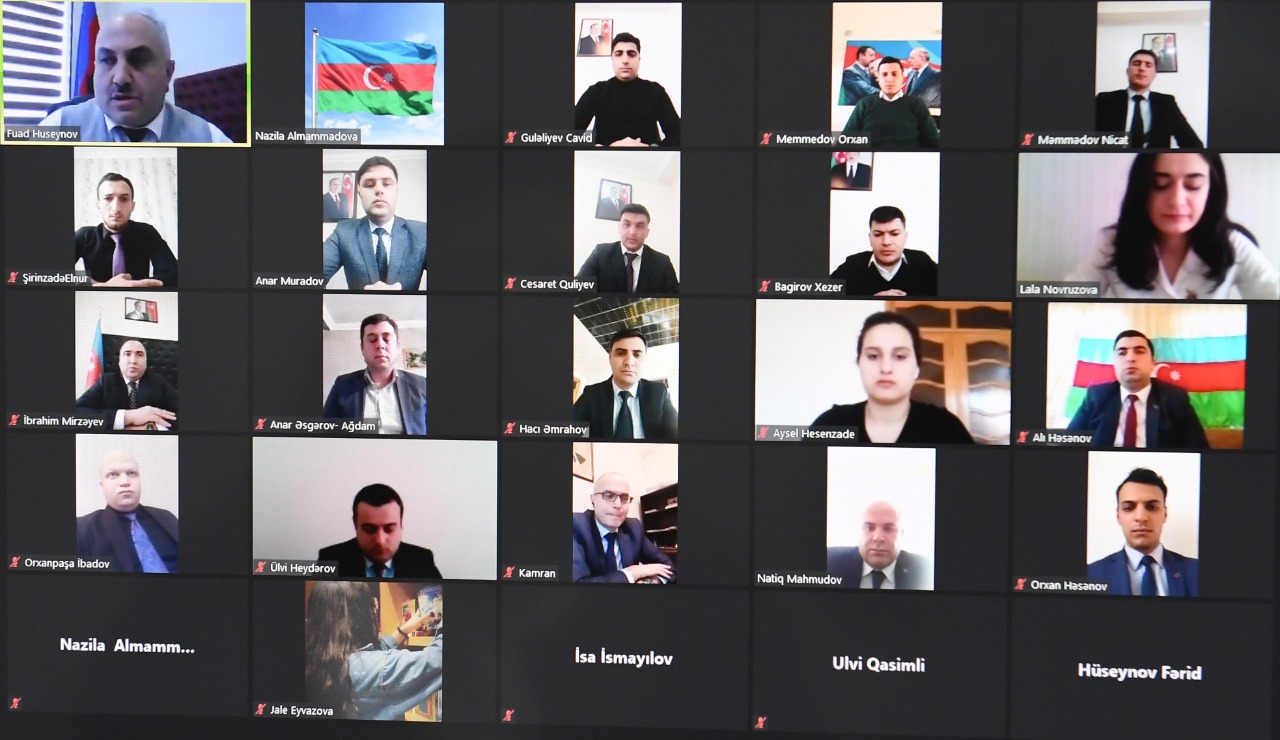 The State Committee for Refugees and IDPs held an online video conference with participation of young people from the liberated territories.
Making a speech at the event dedicated to the Youth Day on February 2, Deputy Chairman of the State Committee Fuad Huseynov stated that comprehensive state care is provided for the development of youth in Azerbaijan. During his all years in political power, the Great Leader Heydar Aliyev attached great importance to the upbringing of a healthy, educated and enterprising young generation, their education in the spirit of love for the motherland. The foundation of the youth policy of our independent state was laid by the Great Leader, necessary measures were taken to increase the role of youth in society, and Youth Day was established.
President Ilham Aliyev has further improved the state policy in the field of work with youth and successfully continues to do so adapting it to the existing challenges. State programs are being implemented to increase the role of youth in the political, economic and cultural life of the country. Young people are highly trusted in various fields of public administration. 
It was noted that the main purpose of the reforms, social and economic policy implemented in the country as a whole is to provide the Azerbaijani citizen with decent standard of living and strengthen their social protection. And the measures taken in favor of vulnerable category are a priority of this policy. As such, consistent measures are being taken to address the social problems of IDPs, improve their housing and living conditions and ensure employment. At the same time, IDPs use social, medical, educational, transport, housing and communal benefits.
It was underlined that First Vice President Mehriban Aliyeva treats to issues related to IDP youth in a particularly sensitive way, provides great care to create the necessary conditions for their health, education, solution of social problems and cultural development.
It was stated that young people have an important role in ensuring the security of our country and protecting its territorial integrity. During the 44-day Patriotic War, our youth united like a fist around the President, Triumphant Supreme Commander-in-Chief Ilham Aliyev and made an unprecedented contribution to the brilliant victory over the occupying Armenia. Young people, who played a major role in this historic victory, will also take an active part in reconstruction and revival of the liberated territories.
Later, Janali Mammadov from Khojali, Orkhanpasha Ibadov from Lachin, Lala Novruzova from Jabrayil, Anar Asgarov from Aghdam, Khazar Baghirov from Zangilan made speeches. They noted with satisfaction that they are proud to celebrate Youth Day not as IDPs anymore, but as residents of the liberated territories. Thanking the President Ilham Aliyev for giving them this pride and joy, young people emphasized that they will do their best and show great determination to revive the liberated territories.