The first meeting of the Supervisory Board of Karabakh Revival Foundation was held
Görüşlər
06 January, 2021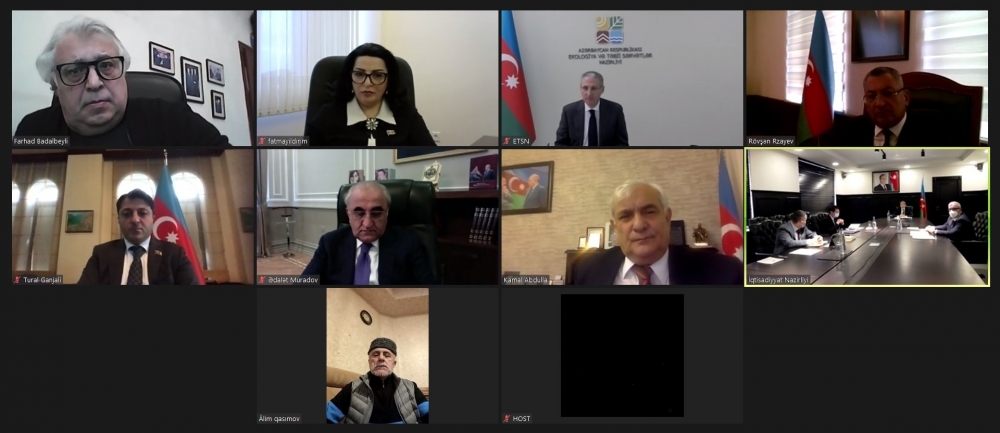 The first meeting of the Supervisory Board of the newly established Karabakh Revival Foundation was held on January 5. 
The press service of the Ministry of Economy informed AZERTAC that the issues arising from the relevant decrees of the President of the Republic of Azerbaijan were discussed at the meeting held in video format. First, the members of the Supervisory Board thanked the President Ilham Aliyev for the credence given. It was noted that the main activity of Karabakh Revival Fund will be aimed at restoring and rebuilding the liberated territories of the Republic of Azerbaijan, turning it into a developed region, establishing an environment that will ensure settlement, decent living and economic activity, IDPs return to their native lands. For this purpose, serious tasks have been set before the foundation by the Decree of the President.
It was noted at the meeting that in addition to addressing security issues in the liberated territories, instructions related to the provision of basic infrastructure and social services are being fulfilled. The state is building road infrastructure, government agencies, especially local branches of utility facilities, have started to work actively in their fields. It was underlined that considering the fact that the liberated lands cover a very large area, the economic recovery will be carried out under the integrated conceptual state program based on a multifaceted approach. The program is expected to be developed and approved in a short time.
Karabakh Revival Foundation will provide financial support for the restoration work and ensure attracting investments and organizing the necessary propaganda campaigns in Azerbaijan and abroad. The main financial sources of the foundation have been determined by the Presidential Decree.
Members of the Supervisory Board emphasized the importance of building the foundation activities on the principles of transparency, public openness, as well as cooperation with the private sector and civil society. It was noted that the foundation will fully support the activities, projects and initiatives of the private sector in the liberated territories, and will provide them with all necessary legal and organizational support. In addition, special attention will be paid to the involvement of foreign investors and international donors in restoration of the liberated territories.
A number of organizational and administrative issues were discussed at the meeting of the Supervisory Board, and relevant decisions were made to complete the necessary legal procedures for the full operation of the foundation as soon as possible.