"Hello to Soldier" on the occasion of the Armed Forces Day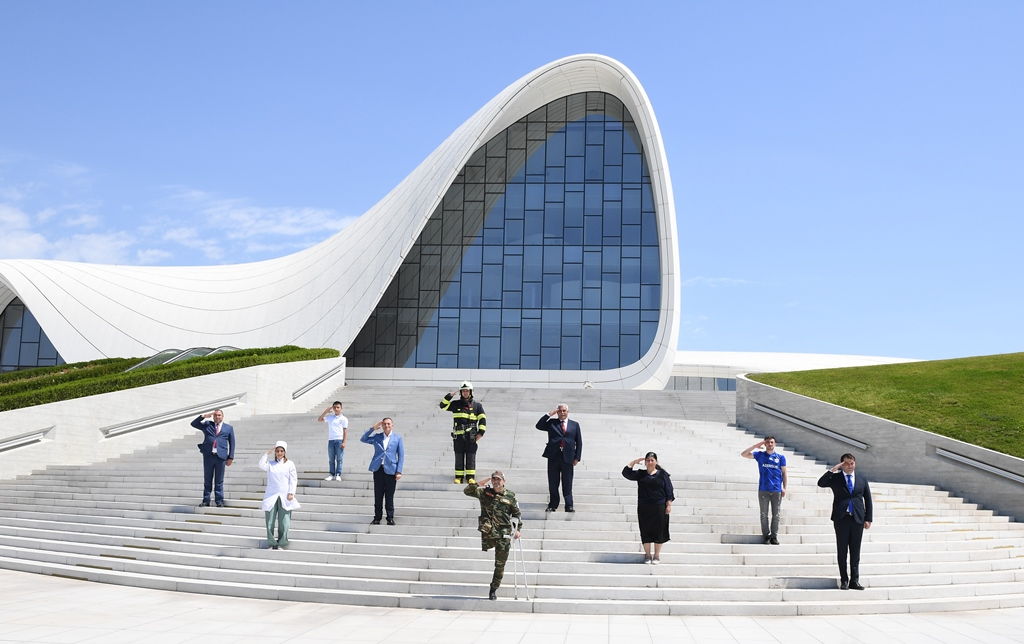 The military-patriotic social project "Hello to Soldier", launched earlier this year with the support of the Heydar Aliyev Foundation and organized by the State Committee for Refugees and Internally Displaced Persons of the Republic of Azerbaijan, continued on the eve of June 26 – the Armed Forces Day.
An event was held in front of Heydar Aliyev Center with the participation of a group of people from different professions and ages, in compliance with the existing preventive rules established by the Operational Headquarters under the Cabinet of Ministers. People`s Artist Mansum Ibrahimov and Nuraddin Mehdikhanli, midfielder of "Karabakh" football club Gara Garayev, Director of ASAN radio Emin Musavi, Group I Karabakh war disabled Rais Mursalov, head of press service of the State Committee Ibrahim Mirzayev, the wife Farzaliyeva Sona and grandson Pahlivan of the National Hero Farzaliyev Pahlivan, the nurse of Shusha Central Hospital Parvana Humbatova and firefighter of Nizami District State Fire Protection Department, internal service sergeant Elvin Gurbanov congratulated our soldiers on the remarkable day with military salute.
The purpose of the action, which has been attended by tens of thousands of people by far, is to show the confidence of various segments of society in the Supreme Commander-in-Chief of our Armed Forces and the support to the personnel of our army.
The second stage of the action "Hello to Soldier" will be held on June 26 – the Armed Forces Day of the Republic of Azerbaijan with the support and organization of the Ministry of Defense of the Republic of Azerbaijan and our soldiers serving in different military units will respond to the patriotic initiative of the participants under the slogan "Hello to Soldier". In the end, a video to be made by the State Committee regarding the action will be shown to the public.