President Ilham Aliyev chaired meeting on results of first quarter of 2022
Official news
13 April, 2022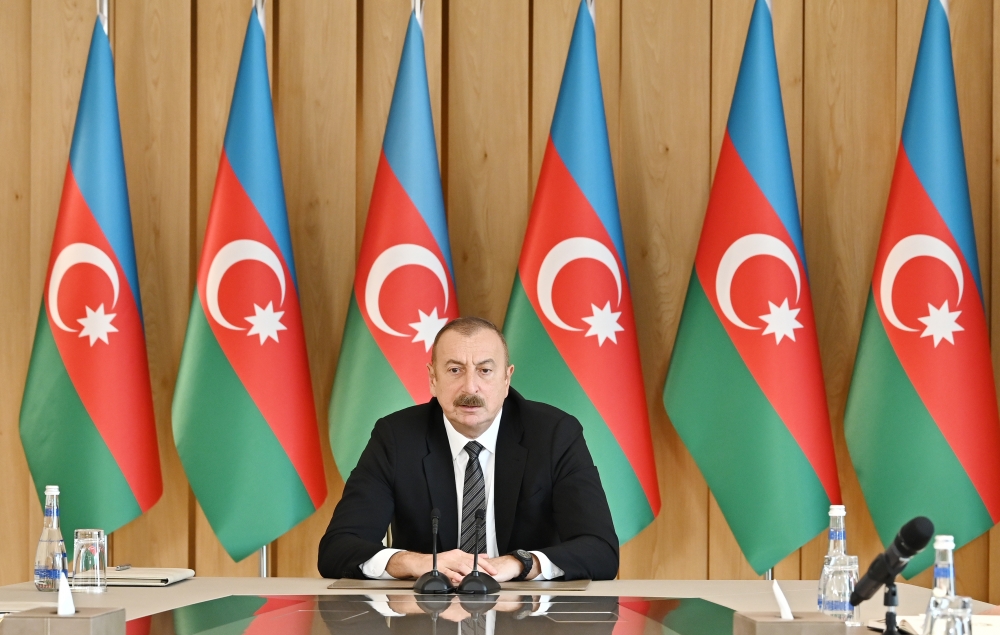 President of the Republic of Azerbaijan Ilham Aliyev has chaired a meeting dedicated to the results of the first quarter of 2022.
The head of state made an opening speech at the meeting.
Opening speech of President Ilham Aliyev
- Three months of the year are now in the past. Today we will analyze the work done, and also talk about plans for the rest of the year. In the first three months of this year, our country has successfully developed in all areas. We must assess the results of these three months as a continuation of last year's success.
Last year was a very significant year in the life of our country. It was the first year after the war. Of course, last year was very important for the post-war period. Our main goal last year was to start the restoration of the liberated territories and assert the new realities at the international level, and the results in both directions are obvious.
The results of the post-conflict period, the results of the first year give grounds to say that we have reached all our goals. First of all, we have continued our contacts and active cooperation with international organizations, and the world's leading international organizations have acknowledged the new realities. First of all, an international event has recently been held in Shusha under the UN auspices – an event dedicated to the 30th anniversary of Azerbaijan's membership in the UN. It was a very significant event. It showed yet again that the UN is a body that fully recognizes the territorial integrity of Azerbaijan. Of course, when we were faced with the fact of occupation after joining the UN, we saw that the UN and its Security Council had adopted fair decisions. Unfortunately, those decisions had remained on paper for almost 30 years. However, the settlement of the Karabakh conflict, the unilateral settlement of it by Azerbaijan has also taken this burden off the UN. I would like to reiterate that this event in Shusha was of particular importance, and it is no coincidence that it triggered a wave of panic and hysteria in Armenia.
Our activities in other leading international organizations were also successful. The biggest international institution after the UN is the Non-Aligned Movement. Azerbaijan currently chairs the Non-Aligned Movement, and as you know, with the consent and support of all member states, our chairmanship has been extended for another year. This is a manifestation of the great confidence shown to us. The Non-Aligned Movement has demonstrated a fair stance on the past conflict immediately after Azerbaijan became a member of this movement, and I believe that further important events have taken place in this direction since the end of the war. The Non-Aligned Movement was in unequivocal solidarity with Azerbaijan before, during and after the war.
Another major international organization is the Organization of Islamic Cooperation. During the occupation, the Organization of Islamic Cooperation adopted numerous resolutions in support of our position. At a recent meeting of the Organization of Islamic Cooperation at the level of foreign ministers, several other resolutions were adopted in support of Azerbaijan's position, including one dwelling upon the destruction of Azerbaijan's historical and religious sites by Armenians. The organization's leaders have visited the liberated lands.
Then the OSCE, which gave a mandate to the Minsk Group. The OSCE has also fully accepted the new realities. I recently had a meeting with the OSCE Chairman-in-Office, and the meeting once again showed that the OSCE also fully accepts the new realities, and this is a very significant event. As for the OSCE Minsk Group, immediately after the war, the Minsk Group co-chairs arrived in Baku. This was their first and last visit to Azerbaijan after the war, and there was sufficient information about that meeting in the media, I do not want to repeat that. Our position has always been unequivocal. Whatever we said during the discussions, we voiced the same theses and opinions in our official statements. We have resolved this conflict ourselves. The Minsk Group was active for 28 years before the second Karabakh war. The co-chair countries have probably made hundreds of visits to Azerbaijan and Armenia over the years. The result is obvious. The result was zero. The reasons for that are known to the Azerbaijani public too. I would not like to talk about that too much. The result is obvious, and I want to say again that the result is zero and Azerbaijan has resolved this conflict on its own. We have resolved it by military and political means. Although the mandate given to the Minsk Group to resolve the conflict is de jure in force, it can already be considered invalid de facto. During the post-war period, before the last Russian-Ukrainian war, we expressed our views on this issue. Our foreign minister has met with the Minsk Group co-chairs at various international events, and we said to them, "Tell us what you want to do now? The Nagorno-Karabakh conflict has now been resolved, there is no and will not be an administrative territory called Nagorno-Karabakh in Azerbaijan. Tell us what you want to do, let us know, and then we will state our position. For more than a year now, we have not received any proposals on this issue. Under the current circumstances, the Minsk Group and its co-chairs are virtually non-functional. This has already been stated by high-ranking officials of these co-chair countries. Therefore, of course, there can be no talk of any group activity. I think that the OSCE can play a role as a credible international organization. As I mentioned, during my recent meetings with the OSCE Chairperson-in-Office I stated that civil society representatives, the media and other influential public figures could hold meetings within the framework of the OSCE, i.e. within this format, so that Armenian-Azerbaijani relations could be normalized. This is the issue on the agenda now. The Nagorno-Karabakh conflict has been resolved. Now the issue is the normalization of Armenian-Azerbaijani relations, and any international organization, an organization that can contribute to this area is certainly welcome to do that.
At the same time, our contacts with the European Union have intensified after the war. The European Union has also accepted the realities of the post-conflict period. At the initiative of the President of the European Council, Mr. Charles Michel, trilateral meetings were held in December and April. Information about the meetings has been provided, so I don't want to talk much about that. But, of course, both the experts and the Azerbaijani public could see that the final communiqué did not contain the expression "Nagorno-Karabakh", which is quite natural. Because Azerbaijan expressed its protest, so there is no word "conflict" either. This is natural, because there is no conflict. The conflict has been resolved. The European Union is now working on normalizing Azerbaijani-Armenian relations, and these issues were discussed at the April meeting, on 6 April. As you may know, Azerbaijan has made a proposal consisting of five principles to normalize relations between the two countries, and the Armenian side welcomed this proposal. These statements had already been made before the Brussels meeting. At the meeting in Brussels, I wanted to clarify this for myself and I did. Armenia accepts the five principles. So the territorial integrity of Azerbaijan is recognized and Armenia renounces its territorial claims to Azerbaijan. In other words, if it accepts the five principles – as it was confirmed at the April meeting – then these are part of these five principles. This is a very positive thing, and I think that it is a key condition for the normalization of bilateral relations. It was agreed that working groups would be established both on the border and for the preparation of a peace agreement. As you know, the foreign ministers of Azerbaijan and Armenia have recently had a telephone conversation, which I think was the first time it happened in the last 30 years. We also welcome that.
Because the relations between two countries should be resolved by the two countries. Those who want to help should help. This is how I see it. This is our position. I think that the working groups on the delimitation of the border to be set up by the end of April, as well as the working groups on the preparation of a peace agreement, should start their work soon. We have very high hopes for this process and are not wasting time. In any case, we are in favor of starting to resolve the issue without wasting time.
So I want to say again that our policy immediately after the war, our activities in international organizations, our relations with major powers in a bilateral format, as well as the developments and events in Karabakh and East Zangazur, have brought about these realities. I must also note that we were in close contact not only with international organizations, but also with neighboring countries. All neighboring countries have accepted the new post-conflict realities, and this should be considered a very positive development. At the same time, we are pleased with the launch of the 3+3 cooperation format. The first such meeting has been held. There was no agenda for the first meeting, as it was simply a meeting to create this format. We have plans for the second meeting and what issues should be discussed there. I think that the second meeting should be held in the near future. In other words, we shouldn't waste time. We don't need these formats simply for the sake of visibility. If these formats don't produce concrete results, then they will lose their significance.
We are in favor of doing tangible work and have a very clear vision for the future development of the region. We know exactly what we want and we will continue to use every opportunity to achieve our goals. These are the main issues related to the post-conflict period. Most of this work was done in 2021, and some of it in the first three months of this year. This gives us the opportunity to say, if all this is implemented, that there will be peace in the region, in the whole of the South Caucasus, there will be calm, the risks of war will be greatly reduced, and we can live comfortably. We will be able to build and create, which is very characteristic of the Azerbaijani people. We are doing this and we will talk about it today.
At the same time, of course, we must never forget the occupation, the Armenian savagery. At the same time, we must not forget that Azerbaijan is strong and Armenia is weak today. The behavior of the Armenian side is based on these factors. We live in real life, and we must never forget the policy of ethnic cleansing Armenia pursued against us in the early 1990s, the Khojaly genocide, the occupation, and we must always remember it as Azerbaijanis. As a responsible people, we must always be ready for anything.
Of course, looking to the future, I am confident that Azerbaijan will become even stronger. The Azerbaijani public will see that again when we discuss other issues today. The development of Armenia will be up to itself, up to Armenia's attitude towards neighboring countries. Because it is clear to everyone now that Armenia cannot develop without normalizing relations with Azerbaijan and Turkey and that their 30-year policy of aggression cost them dearly. They have wasted the opportunity to become a truly independent country. Despite the occupation of our lands for 30 years, we have achieved full political and economic independence. This is why we are confidently and proudly saying our word from all the podiums now. Therefore, this perhaps is Armenia's last chance. Either the country will develop or it will find itself in an even more precarious situation, I want to say again that, first of all, the relations with Azerbaijan and Turkey must be normalized on the basis of norms and principles of international law.
As I said, we have not forgotten and will not forget anything. Therefore, immediately after the war, along with all other reconstruction work, we, as always, continued to pay attention to the military field. I must say that after the war, new and large contracts were signed with Turkish and Israeli companies. The implementation of some of these contracts has started, others have been completed, and others still are continuing.
Each day of the 44-day war has been analyzed in depth, and, of course, this analysis allowed us the opportunity to build our future army on the basis of the real situation. Taking this into account, the purchase of new weaponry and equipment is also being arranged. At the same time, after the war, the Ministry of Defense has undergone restructuring. Structural changes have been made, and this will further strengthen and modernize our army. After the war, a new type of troops – the Commandos – was created, and I personally attended the opening of the first Commando military base in Hadrut. This is a very strong army contingent. I am sure that this contingent can now perform any task. We will increase the number of commandos every year. I think it would be inappropriate to disclose information about their numbers, but everyone should know that thousands of fully trained fighters have already been and will continue to be trained.
At the same time, the number of personnel of the Special Forces who showed special heroism in the second Karabakh war has been increased, and it will continue to be increased. We will allocate and are already allocating as much as it is necessary for military issues. In Armenia, the picture is completely different. They can only spend the financial aid allocated to Armenia from abroad or unrepaid loans. I want to clarify this issue as well. I believe that in order to establish peace in the region, the process of arming Armenia must be stopped. Armenia does not have the money to buy weapons. It never did. In the second Karabakh war, we destroyed Armenia's military equipment worth about 4-5 billion dollars. Some of this equipment was taken as spoils of war, and we are using it. Some of it is displayed in the Military Trophies Park. The question is: where does so much money come from in a poor country? Where do these loans come from? Were these loans then repaid or written off? If those loans had not been given to them, I am sure there would have been no need for the second Karabakh war. Armenia would have meekly come to us seeking an agreement, just as it did when signing the act of capitulation, accepting all our conditions and acting completely differently after the war. Therefore, if money is allocated for the armament of Armenia again, we will consider it as an unfriendly step and will take our steps accordingly.
I want to say again that as a country living at its own expense, we will, of course, allocate as much as we need to build an army.
In the post-conflict period, of course, we have taken all our steps in relation to the economy, to the restoration of our territories in a calculated and prudent manner, and the results are obvious. All plans for the post-conflict period in Azerbaijan are being implemented. The international community has acknowledged these realities from a political point of view. At the same time, the interest in Azerbaijan has increased – both respect and interest. We are seeing this interest in large-scale investment projects. In just three months of this year, two major investment projects were launched – the foundation of two renewable energy plants was laid. The 470-megawatt power plants are being built by foreign investors and will be commissioned next year. We can thus save up a large amount of natural gas and expand our export opportunities. At the same time, I think this is a very important issue for other investors. At present, there is a great interest in Azerbaijan as a result of ongoing transformation, transparency and personnel reforms, as well as due to our victory in the second Karabakh war. There are many applications for working together and establishing business relations. Azerbaijan today is one of a handful of countries in the world that has been able to attract so much interest.
Our economic indicators are also very positive. The results of the first quarter hardly need any explanation. The gross domestic product has increased by 6.8 percent. The world is entering a post-pandemic period, so to speak. It may be a little premature to use the word "post-pandemic", but in any case, the current situation in the world and in Azerbaijan indicates just that. Therefore, I think that our economic growth of 6.8 percent can be viewed a tremendous achievement. In the non-oil sector, this is measured by even higher figures. Our non-oil economy has grown by more than 10 percent. Growth in industrial production is about 4 percent, but in non-oil industrial production it is more than 18 percent. These figures in themselves confirm the words I am saying. The diversification of the economy, the reduction of dependence on the oil and gas sector, the decline in both its share in the GDP and exports – all these are a reality.
Our foreign trade turnover has increased by more than 60 percent. Our exports have almost doubled. Of course, rising oil prices must also be taken into account. However, our non-oil exports have also increased significantly – by 45 percent.
This has been possible specifically as a result of the reforms. I have never compared Azerbaijan with other countries and am also unaware of the statistics. And yet I do not believe that many countries have similar statistics. Of course, our foreign trade turnover has increased and our foreign debt has decreased. If we compare this with April last year, we can see that our foreign debt in April last year accounted for 18 percent of the GDP, but now it is only 12.5 percent. In other words, we were able to reduce the external debt by more than $600 million in one year. This was made possible thanks to the implementation of the external debt management strategy. I once set an objective that we should be very cautious in obtaining loans. At the same time, state-owned companies used to take various loans without asking anyone. And when they could not repay those loans, the burden of payment fell on the state. At the same time, a very opaque picture was observed. We have put an end to that. No government agency can take a single manat in loans without the government's permission. Every loan is now approved by the government, and we should attract loans only to projects that are important, to projects with a high-tech component, as well as projects being implemented in liberated lands. There is no need for taking loans for other projects. This is why we have reduced our foreign debt both in absolute terms and in relation to the GDP. Of course, the gross domestic product has also increased, but I don't want to cite a specific figure as yet. But I think that if we continue to develop at this pace, there will be a very significant growth by the end of the year. The balance of foreign trade is also very positive. The positive balance in just three months has been more than $5 billion. This is a very large number. Experts will know that this balance is negative in most countries around the world. Countries import more than they export. In Azerbaijan, in just three months, we have earned $5.1 billion – our exports exceed imports. Of course, I am sure that this figure will increase even more by the end of the year. This has had a strong impact on macroeconomic stability. There has also been an increase in our foreign exchange reserves. Our foreign exchange reserves have increased in three months. Therefore, we can rightly be proud of all these indicators. But this does not mean that we should be complacent with these achievements. No! Developments in the world are moving in a negative direction. Clashes and wars are flaring up.
There are different views on sustainability in the future. There may be food shortages in the world, food prices are rising. We will talk about that as well today. I must also say that we have made all these achievements through our own efforts. We have not received a single manat in support from anyone. We are restoring the liberated lands on our own. Yes, we have invited foreign companies. They are working there as contractors. But so far we have not received a single manat from anyone. We rely solely on our own strength and our own talent. I want to emphasize this in particular. Because usually after such bloody wars and such devastation – the devastation in Karabakh and Zangazur is unique for the world, there was no such devastation even in World War II – donor conferences are held, international organizations get together and implement a restoration plan. Suffice it to look at the history of World War II. At that time, the Marshall Plan was implemented. If America hadn't implemented the plan to rebuild Europe, it would have probably taken Europe 50 years to restore its potential on its own. International funding has been provided for other conflicts. But no-one is helping us, neither during nor after the occupation. In fact, most countries did not even want to call the occupation an occupation. I remember our activities in international organizations and bilateral talks during the occupation. It took us tremendous effort to incorporate the principle of territorial integrity of our country in those declarations. Many were refusing. However, it was as clear as day who is the occupier and who is the occupied country. This is double standards, this is injustice. We are still seeing that today, in the Russian-Ukrainian war. In the past, when we were liberating our lands from occupation using the famous "Bayraktar" drones, foreign experts and the media were describing it as a deadly weapon. In the Russian-Ukrainian war it is called an angel. This is the difference, this is double standards, this is injustice towards us. This is a reality. And we have created and are creating a new reality on our own. Therefore, I want to say again that I still hope that international organizations, large foundations, international non-governmental organizations engaged in charity will heed attention. Aghdam is the Hiroshima of the Caucasus. It's not me saying this. It is international experts. All cities like Aghdam have been razed to the ground by Armenians. We have not received a single manat from anyone. But this injustice cannot be tolerated. I think that our institutions, the government, the Presidential Administration, the ministries should all take serious action on this issue. If they do not want to help, let them say that we will not help you. We will then know what it is. It has been about a year and a half since the war ended. Not a single foundation has helped us. More than 200 people have been killed or seriously injured since the war ended. There are so many foundations and NGOs in the world that deal with this issue. What are they doing? Let them come and help us. We don't have sufficient physical resources. We have purchased what we needed. We have purchased machinery, equipment and even drones capable of detecting land contaminated with mines. But we do not have enough specialists. We do not have enough manpower. Therefore, let them at least help us in this area. I repeat that we will restore everything on our own anyway. I said that we will rebuild both Karabakh and Zangazur as an exemplary region. Azerbaijani citizens will live there comfortably and prosperously. It will be an example for the whole world. But my appeal is to international organizations. Those involved in human rights, those championing the principles of justice should pay at least some attention to Azerbaijan and avoid double standards. In short, this shows everything, so to speak. I am confident that the economic achievements of the first three months of this year will be continued until the end of the year. Because we see that there are opportunities to achieve this. Thus, we will successfully complete this year as well.
Now I would like to listen to an update on some issues. First, with three months of the year now in the past, what is the situation with budget execution? The Minister of Finance, you have the floor.
Minister of Finance Samir Sharifov: Dear Mr. President, distinguished participants of the meeting.
The results of the first quarter of 2022 can be assessed as a continuation of the achievements of the Republic of Azerbaijan in 2021. Last year's socioeconomic results showed that after the great victory in the Patriotic War, Azerbaijan achieved great progress in the economy by mobilizing its resources in a very short period of time. Thus, last year's GDP growth was exceeded by 2.2 percent, i.e. it reached 5.6 instead of 3.4 percent. We are seeing a continuation of this trend this year too. These positive trends are also reflected in the execution of the state budget for the first quarter of this year. In the first quarter, state budget revenues exceeded the forecast by 6.3 percent, or 418 million manats, with budget revenues amounting to 7.1 billion manats.
I would also like to note that the forecast on revenues has been exceeded by the State Tax Service by 539 million manats, or 23.8 percent, and by the State Customs Committee by 236 million manats, or 23.7 percent. On social insurance premiums, 1.41 billion manats was executed against the forecast of 961 million manats. I should note that the bigger share of over-fulfillment of forecasts for the State Tax Service, i.e. by about 90 percent, is due to increased revenues in the non-oil sector. In general, revenues from the non-oil sector in the first quarter accounted for more than 80 percent of total revenues and more than 80 percent of total tax revenues. Under such circumstances, the State Oil Fund transfers into the state budget were executed by 2.757 billion manats against the planned 3.180 billion manats, i.e. 13 percent, or 423 million manats less. This is due to the fact that state budget execution has been very high.
Distinguished Mr. President, I must also note that the execution of budget expenditures in the first quarter of the year is usually not so high. This year though, it was 99 percent. Even with this high level of budget execution, the state budget surplus amounted to 1.38 billion manats in the conditions of an excess of budget revenues provided by fiscal authorities on the one hand and the under-collection of 423 million manats from the State Oil Fund, on the other. This is a very good indicator. As I mentioned, state budget expenditures for this period were executed at the level of 5 billion 630 million manats, or 99 percent. The main state responsibilities, financial assistance from the state budget and other programs have been fully funded, and budget requests submitted by state budget organizations to the treasury have been fully implemented.
I would like to note that the funds allocated from the state budget for the implementation of the Karabakh reconstruction program constitute 2.2 billion manat. The 346 million manats, or about 16 percent, have already been executed in the first quarter. The implementation of the state capital investment program has been provided at about the same level. Distinguished Mr. President, your instructions have been fulfilled.
In the first quarter of this year, 220 million manats was allocated under the food security program, mainly in the aftermath of food problems in the world. This is due to the provision of certain farming subsidies to agriculture. So much for budget execution.
President Ilham Aliyev: I see. Could you also bring us up to date with the future parameters of our foreign debt? As I said, there is a strategy and it is being implemented successfully. 12.5 percent is a figure any country can be proud of. As you know, I set a task a few years ago that our foreign debt should not account for more than 10 percent of our gross domestic product. So we are approaching that. At the same time, of course, we should take loans and shouldn't give them up completely. Therefore, please bring us up to date with the situation for this year. How much money is to be repaid from the state budget this year, how much loans will be received, and what will be the short-term parameters of the strategy for the coming years? Tell us about that please.