President of Azerbaijan held one-on-one meeting with Prime Minister of Georgia
Official news
08 April, 2023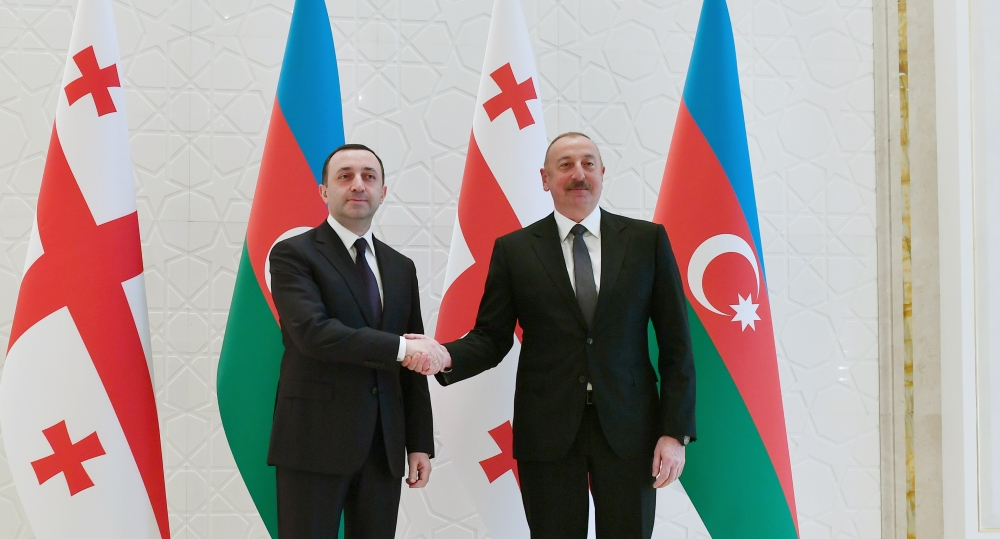 President of the Republic of Azerbaijan Ilham Aliyev has held a one-on-one meeting with Prime Minister of Georgia Irakli Garibashvili in Gabala.
President Ilham Aliyev welcomed Prime Minister of Georgia Irakli Garibashvili.
President Ilham Aliyev and Prime Minister Irakli Garibashvili posed together for photographs.
The sides noted that Azerbaijan and Georgia enjoy traditional friendly and brotherly relations.
President Ilham Aliyev recalled his visit to Georgia last October, and stressed the importance of discussions held during the trip. The head of state noted the significance of discussions to be held during the current visit of the Georgian Prime Minister. The President of Azerbaijan underlined that it is a very important and significant tradition to hold meetings in the regions as part of these visits.
During the conversation, they emphasized the importance of energy and infrastructure projects implemented jointly by Azerbaijan and Georgia. In this regard, the sides noted that the energy projects implemented jointly by the two countries play a major role in Europe's energy security, and the demand for these energy resources has increased. The importance of the implementation of road infrastructure projects was also stressed, and in this regard, the joint activity towards expanding the Baku-Tbilisi-Kars railway project and increasing its capabilities was specially emphasized. They noted the important role of Azerbaijan and Georgia in the Middle Corridor, and stressed the significance of joint efforts in this regard.
The surge in trade turnover between the two countries and additional measures taken in this direction were noted, and successful operation of Azerbaijan's SOCAR company in Georgia was underlined at the meeting.
During the conversation, they highlighted the importance of the agreement on a strategic partnership in the field of green energy development and transmission between Azerbaijan, Georgia, Romania and Hungary, including laying of the submarine cable under the Black Sea as well as the Azerbaijan-Georgia cooperation with other partners in this direction.
President Ilham Aliyev and Prime Minister Irakli Garibashvili also discussed cooperation between Azerbaijan and Georgia in the humanitarian, cultural, educational, defense industry, military, security, agricultural and other spheres.
The Georgian Prime Minister underlined that Azerbaijan would celebrate the 100th anniversary of Great Leader Heydar Aliyev this year, adding the National Leader's memory is honored by the people of Georgia with great respect, and that the Great Leader had been a great friend to Georgia and its people.
***
President of the Republic of Azerbaijan Ilham Aliyev and Prime Minister of Georgia Irakli Garibashvili have made press statements in Gabala.
The President of Azerbaijan made the statement first.
Statement by President Ilham Aliyev
- Dear Prime Minister,
Dear guests, ladies and gentlemen.
First of all, dear Prime Minister, I sincerely welcome you to Azerbaijan. Welcome to Azerbaijan!
Our meetings are regular in nature. Six months ago, we were your guests in Georgia and today you are visiting Azerbaijan. When I was in Georgia, I visited Mtskheta district. Today you are visiting Gabala district. I think this is a very good tradition. Because, in this way, we get to know the interesting historical sites of both Georgia and Azerbaijan, and this strengthens our friendship even more.
Georgia and Azerbaijan have been in close contact for many years. We are friends and allies, and our peoples are bound by brotherly ties. All issues discussed have one goal – to deepen bilateral cooperation and take all necessary steps for the future of our peoples.
Many important issues have been discussed today, and we will build our future activities on the basis of the agreements reached.
Of course, Georgia and Azerbaijan are countries that play an important role in European energy security today, and this role is gradually growing. Of course, the friendly relations between us and cooperation in this field are a great contribution to Europe's energy security. The export of Azerbaijani natural gas to Europe is increasing by the year. As a whole, this year, Azerbaijan will export 24.5 billion cubic meters of gas to world markets, and this figure is increasing year by the year.
According to the Memorandum of Understanding signed with the European Union last year, we must ensure the transportation of 20 billion cubic meters of gas to Europe alone by 2027, and I am sure that we will reach this figure.
Considering the current geopolitical situation, of course, energy security issues have come to the fore for all countries. Azerbaijani company SOCAR has been successfully operating in Georgia for many years. According to the information I received yesterday, SOCAR has built 11,000 kilometers of gas pipelines in Georgia and thus provides natural gas to more than 830,000 subscribers.
In the future, we will actively work on new directions of cooperation in the field of energy. Rather, this work has already begun. Azerbaijan, Georgia, Hungary and Romania signed an important agreement at the end of last year and the first steering committee meeting on the green energy project was held in Baku in February of this year. This is a large-scale project. Of course, the successful implementation of this project may be possible thanks to cooperation of all four countries. At the same time, as you know, the European Union attaches great importance to this project. It is no coincidence that the President of the European Commission also participated in the signing ceremony.
Of course, an important part of our bilateral relations is transport. Here too, all work is going on successfully and according to plan. Georgia and Azerbaijan are working successfully on the implementation of the Middle Corridor. Of course, at the next stage, additional steps will be taken to increase the volume of cargo transportation.
I visited the countries of Central Asia many times last year and this year, and I will visit more countries this year. Therefore, there are ample opportunities for transporting new goods along the Middle Corridor. All administrative issues should be resolved, the tariff policy should be resolved from a single perspective. At the same time, joint effort should be made to attract and transport cargo. Of course, this issue has been and will be extensively discussed today.
These are the key activity directions. However, Georgia-Azerbaijan relations are not limited to that. Our relations cover many areas – defense industry, education, culture, tourism, technologies, agriculture. Of course, necessary steps are being taken to increase our trade turnover. I am sure that today's visit by the Prime Minister will give a new impetus to our relations.
Dear Prime Minister, you are welcome again!
X X X
Then, the Prime Minister of Georgia made the statement.
Statement by Prime Minister Irakli Garibashvili
- Mr. President, my dear friend, it is very nice to see you.
Dear Mr. Aliyev, I am honored to be visiting this charming region of your country today. I would like to thank my friend, President of Azerbaijan Mr. Ilham Aliyev, for the hospitality extended to us.
You have rightly mentioned that you visited Georgia a few months ago. It is already a new tradition that we are visiting not only the capitals, but also the regions of our countries. It is a great initiative, and the fact that we are here today is proof of that.
I would like to emphasize again that such friendly and fraternal relations with Azerbaijan and the people of Azerbaijan are very important to us. Our friendship has an ancient history, and Azerbaijan is not only our neighbor and friend, it is an important strategic partner. For many years, we have implemented historic projects in various fields, and these projects have brought our peoples and countries even closer together. We are interdependent in a good way, and I am sure this will continue to be the case for many years to come. We have mentioned these important projects many times.
It is known that Georgia is also a reliable transit country and transit partner. As mentioned by Mr. President, we continue this activity and do not stop. As you may know, we will lay an electric cable under the Black Sea. We are developing the issue of the Middle Corridor. We have a huge potential to transport green energy to Europe, which has great prospects. This is a future. Both countries will invest more in this area. We have discussed that too.
In addition, of course, we discussed the situation in the region. The current situation in Ukraine has also been discussed, as there are risks and challenges – challenges that did not exist after World War II. Our main task is to ensure peace and stability because without these, there can be no talk of development and prosperity.
We must create jobs and ensure the prosperity of our people. We have the same vision in this field. We are interested in closer relations between our countries.
I would also like to add that we are working together on the Middle Corridor project in a coordinated manner. Our goal in the near future is to remove all obstacles and jointly develop the infrastructure – our seaports and railways. As you know, we are working on the construction of a new port in Georgia. In a year, we will implement the railway expansion project. The operation of the Baku-Tbilisi-Kars railway will be expanded and we will be able to attract more cargoes through the Middle Corridor.
I would like to reiterate that our main goal is to ensure peace and stability in the region. We need to implement more projects in the region and we will carry out our work in a wonderful atmosphere of brotherhood.
Mr. President, let me once again express my immense gratitude to you. This year you are celebrating the 100th anniversary of your genius father Heydar Aliyev in your country. You are our friend, and Heydar Aliyev was also a great friend of Georgia. I wish you and the people of Azerbaijan peace and stability. Thank you for your attention.
***
Prime Minister of Georgia Irakli Garibashvili has toured the city of Gabala.
***
President of the Republic of Azerbaijan Ilham Aliyev and Prime Minister of Georgia Irakli Garibashvili have visited Gabala regional "ASAN xidmet" center.
Chairman of the State Agency for Public Service and Social Innovations under the President of the Republic of Azerbaijan Ulvi Mehdiyev highlighted the activities of the Center.
The Center was inaugurated on August 10, 2016 with the participation of President Ilham Aliyev.
A video highlighting the activities of "ASAN xidmet" centers was screened.
There are currently 24 "ASAN xidmet" centers in the country. Seven of them are located in the city of Baku, two in Ganja, two in Sumgayit, the rest are in Sabirabad, Barda, Gabala, Masalli, Guba, Mingachevir, Imishli, Shaki, Shamakhi, Kurdamir, Tovuz, Aghjabadi and Balakan.
To date, "ASAN xidmet" centers have received about 61 million applications from more than 8,624,000 citizens. According to a survey, the popular approval rating of the services provided by "ASAN xidmet" is 99.8 percent.
Then, Prime Minister of Georgia Irakli Garibashvili was presented with a handmade product made by an "ABAD family".
***
President of the Republic of Azerbaijan and Prime Minister of Georgia Irakli Garibashvili have visited the Gabala Food Village.
Director General of the Gabala Food Village Fuad Babayev briefed the Azerbaijani President and Georgian Prime Minister on the Food Village.
It was noted that the canning factory fitted with advanced European Technologies has 13 production lines, which put out 130 items of product in six package types. The factory has the capacity of 360 thousand tons of finished products. The first line of the facility produces bottled juice and ice tea through a hot filling system with the capacity of 10,000 litres per hour. Another line, with the capacity of 35,000 litres per hour manufactures lemonade and other soft drinks, sparkling and still water.
All compositions are tested in the lab before being produced. The production process is fully automated in the complex.
The potato processing facility has two production lines. It produces semi-finished frozen potato and chips. The semi-finished frozen potato production line has a production capacity of two tons per hour. The chips production line has the capacity of one ton per hour. Both production lines are fully automated. Raw materials are stored in a cooling warehouse, which occupies a total area of 6,000 square meters. There are also quality control labs in the complex. Physical and chemical qualities of products are examined here.
***
A dinner has been hosted on behalf of President of the Republic of Azerbaijan Ilham Aliyev in honor of Prime Minister of Georgia Irakli Garibashvili in Gabala.