Let the footsteps of the return heard in Karabakh, Zangezur!
Mətbuat xidmətinin məlumatı
19 JULY, 2022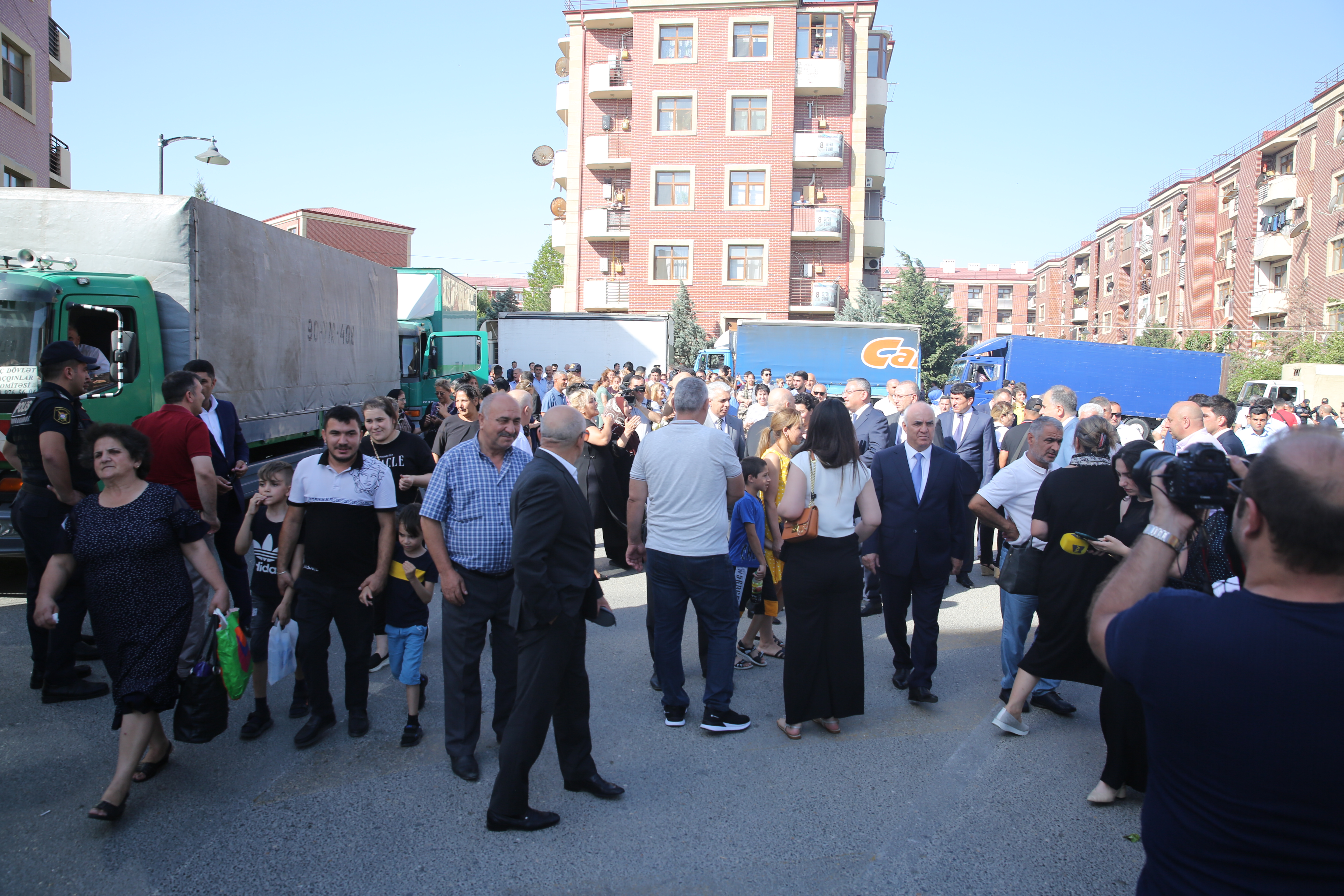 The first stage of the relocation of the population to Aghali village, which was rebuilt on the basis of the "smart village" concept of in Zangilan region, started from the residential complex built for IDPs in the Masazir village of Absheron district.
Rovshan Rzayev, the chairman of the State Committee for Affairs of Refugees and IDPs, Vahid Hajiyev, the special representative of the President of Azerbaijan in Zangilan region, which is included in the East Zangezur economic region, and Ramiz Hasanov, the head of the Zangilan Region Executive Authority, participated in the farewell ceremony of the first families who moved to Aghali village.
The Victory won by our brave army in the 44-day Patriotic War under the leadership of the President, Supreme Commander-in-Chief Ilham Aliyev made it possible for our compatriots who have been longing for their homeland for nearly 30 years to return to their homeland in the territories liberated from occupation. During their life as IDPs, they were constantly surrounded by the attention and care of our state. In this field, the strategic line defined by the Great Leader Heydar Aliyev and continued by the Honorable President Ilham Aliyev is aimed at improving the living conditions of IDPs, ensuring their social protection and employment, and is being implemented consistently. First Vice-President Mehriban Aliyeva is also particularly sensitive to issues related to IDPs and helps to solve their problems. The relocation of the population to Aghali village is the first step of the Great Return. Before the occupation, this administrative area united 3 villages.
In the first stage, 41 families will be relocated to the new Aghali village.
The first relocated families were mainly selected from among those living in the most difficult conditions in temporary settlements, and the size of the housing areas provided for relocation was taken into account. Residents of each of the 1st, 2nd and 3rd Aghali villages are among those relocated.
The distribution of houses was carried out by draw based on the currently applicable rules for providing new residential areas to IDPs, the principles of transparency and fairness. The draw was held some time ago in the Repatriation Department of the State Committee.
One member of each of the 41 relocated families was offered a job and the offers were accepted. Those who accepted the offer will be officially registered and start working at their workplaces after relocation. Besides pensioners, students, housewives, there were engineers, sellers-cashiers, watchmen, gardeners, agronomists, teachers, doctors, people engaged in small business activities and other personnel specialized in the fields of service, healthcare and education among the first residents moved to Aghali.
According to the current legislation, IDPs will be able to take advantage of the social protection measures determined by the state for three years after returning to their permanent residential places.