A meeting was held with the Deputy Prime Minister of Ukraine at the State Committee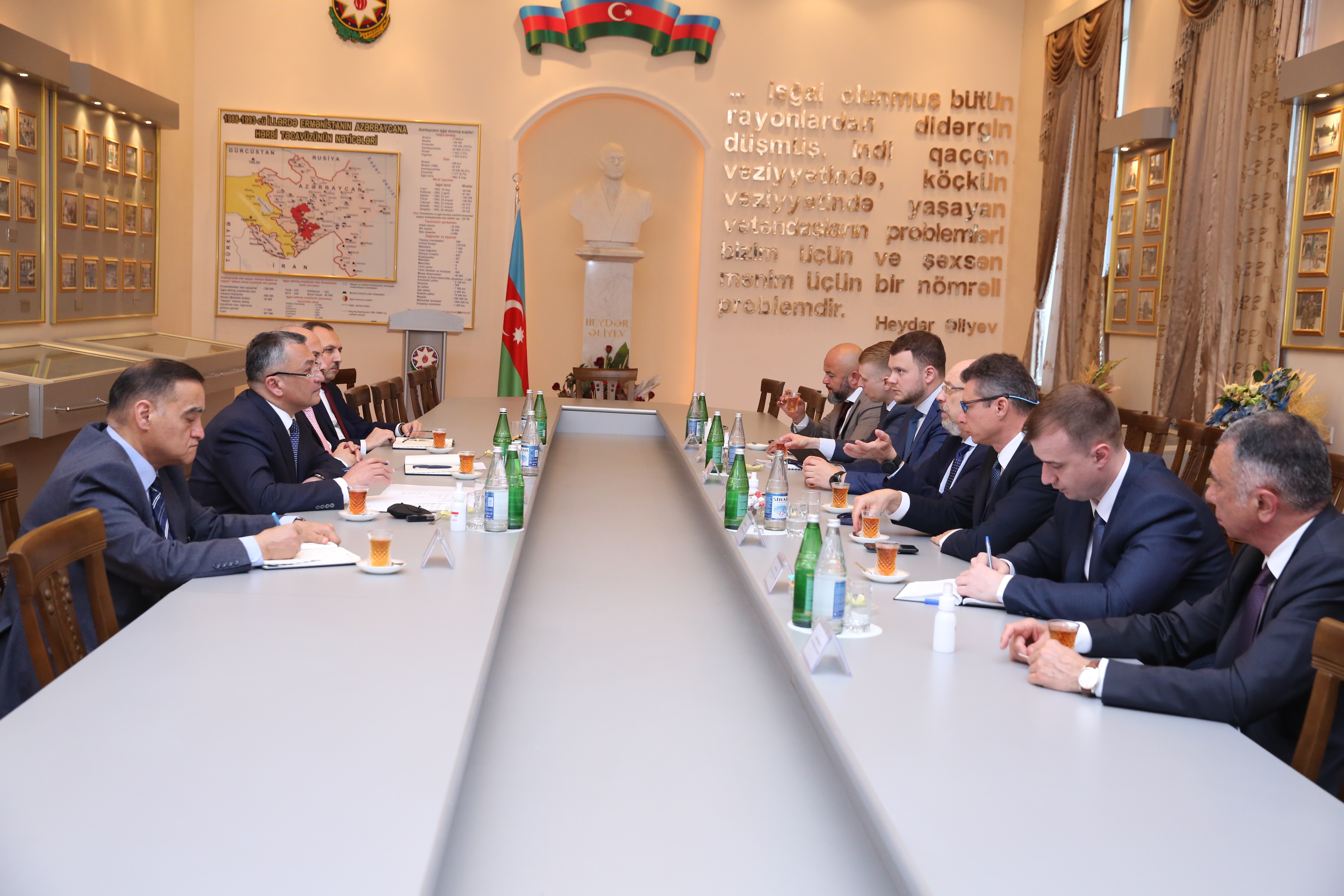 Chairman of the State Committee for Refugees and IDPs of the Republic of Azerbaijan Rovshan Rzayev met with a delegation led by the Deputy Prime Minister of Ukraine, Minister for Affairs in the Temporarily Occupied Territories of Ukraine Alexei Reznikov visiting our country.        
The guest was informed about the consequences of Armenia`s military aggression and policy of occupation as a factor causing the refugee and IDP problem in Azerbaijan, the difficulties faced by people who lost their permanent places of residence and lived as IDPs for about thirty years, and the measures taken to eliminate them.         
It was noted that the foundation of a systematic state policy in the field of work with refugees and IDPs in our country was laid by National Leader Heydar Aliyev and is successfully continued by the President Ilham Aliyev. It was underlined that special state programs are implemented to improve the housing and living conditions of refugees and IDPs, increase their employment, 115 settlements with the necessary infrastructure were built for them, and more than 300 thousands of IDPs were relocated to new houses or apartments. It was stated that the First Vice President Mrs. Mehriban Aliyeva pays great attention and care to addressing the social problems of IDPs.          
The Ukrainian guests were also informed about the new realities that arisen as a result of Azerbaijan`s defeat of Armenia and liberation of its historical territories last autumn, including preparations for the return of IDPs to their homelands. It was noted that the vast majority of IDPs temporarily settled in 55 regions of the country want to return to Karabakh, their permanent places of residence. The Coordination Headquarters, established by the order of the President Ilham Aliyev, its Interdepartmental Center and Working Groups in relevant fields are currently actively working to address socio-economic, humanitarian, organizational and other urgent issues in the liberated territories in a centralized manner. After the provision of security, communications, restoration and reconstruction of residential areas, the relocation of IDPs to those areas in accordance with international standards will start.   
Expressing gratitude for the warm welcome, Ukrainian Minister Alexei Reznikov informed about the situation and humanitarian problems in his country as a result of the present conflict and spoke about the measures taken by the government to address the suffering of the people affected. Underlying the importance of Azerbaijan`s example in solving both the refugee and IDP problem, and the restoration of its territorial integrity for Ukraine, the Minister said that friendly relations between the two countries provided a good opportunity to learn and benefit from this example. He noted that the exchange of experience on reintegration of the liberated territories will lay a foundation for the development of an effective action plan for the implementation of tasks set in this area. 
Views were exchanged on other issues of mutual interest at the meeting.