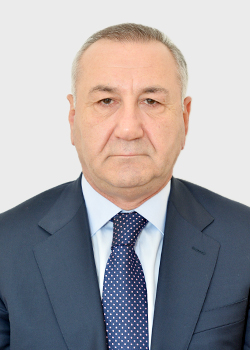 Eldar Zeynalov
Chief of Staff
Eldar Zeynalov was born in March 21, 1960 in Tartar region, Qapanli district. 
He graduated from secondary school in Tartar region, Qazyan district. In the same year, he worked on the basis of inter-district supply of products in Karabakh. In 1978, he got accepted to Sanitary ware faculty in Azerbaijan University of Architecture and Construction.
Eldar Zeynalov started  his career as a repairman in the gas exploitation department in Oktyabr region in 1983, then rose his career significantly as field chief in 1985. From 1986, he worked as a chief engineer in specialized repair construction trust no 2, in the same year he worked as a chief technologist in Azerigaztikinti trust, the following year, he became the deputy cheif to the same company's specialized repair construction trust no1, in the same age, he transformed into Nizami region gas administration  as a chief, after 17 years in 2004, he continued his same profession in Binagadi region, and after several months he changed his work place to Sabail region, later he worked in Ganja region's gas administration and last but not least, between 2006-2008 he continued his career in Sumgait region.
In addition, from 2009, Eldar Zeynalov became as a superior in SOCAR AzeriGas Production Union, also in the following year he promoted and became the assistant of the director.
Furthermore, from 12.07.2018 he worked as a deputy chairman in the Department of Settlement, migration, employment and status in State Committee for Affairs of Refugees and Internally Displaced People of the Azerbaijan Republic. Lastly, he is working as the Head of Administration in State Committee for Affairs of Refugees and Internally Displaced People of the Republic of Azerbaijan from 29.08.2018 till present.
He is the member of New Azerbaijan Party.
E-poçt:
e.zeynalov@refugees-committee.gov.az