The State Committee held a meeting with the delegation of US Congress members` assistants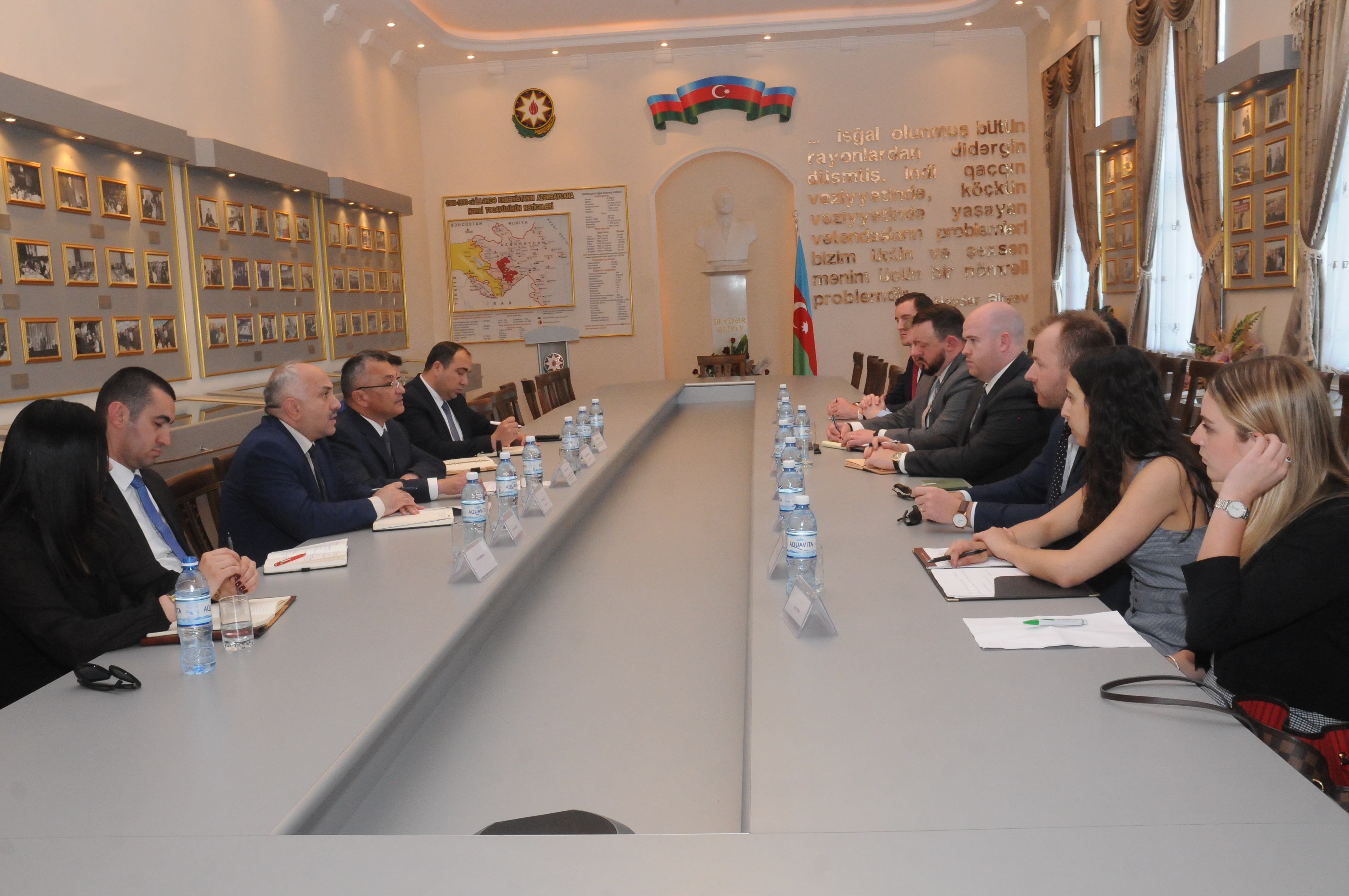 On May 29, Rovshan Rzayev, Chairman of the State Committee for Refugees and IDPs met with the delegation of US Congress members` assistants.
The Chairman of the State Committee informed the guests about the history, reasons and current state of the Armenian-Azerbaijani Nagorno-Karabakh conflict, the humanitarian crisis faced by our country and its ongoing consequences as a result of the conflict. It was noted that four resolutions of the UN Security Council on unconditional withdrawal of Armenian troops from the occupied territories of Azerbaijan were not implemented. It was underlined the importance of the US position on this issue as the co-chair of the Minsk Group on settlement of the conflict, and its impact on the progress in negotiation process. It was highlighted that unsettlement of the conflict politically always creates a threat of using military means. It was reminded that in response to the Armenian aggression, in April 2016 a military confrontation happened on the line of contact of the troops and the village Jojug Marjanli of Jabrayil was liberated from the occupation as a result of the counter-attack operation of the Azerbaijani Army. 
It was noted that as a result of Armenia`s ethnic cleansing and aggression policy, more than 1 million 200 thousand refugees and IDPs were displaced from their homeland. The Azerbaijani government keeps the solution of the problems of individuals faced moral, physical and material deprivations in the center of attention. This issue is one of the priorities of the President Ilham Aliyev`s social policy. The scale of work done in Azerbaijan to improve the housing and living conditions and material security of refugees and IDPs is large. The First Vice President Mrs. Mehriban Aliyeva and Heydar Aliyev Foundation managed by her have important services in this area. Chairman of the State Committee also spoke about the activities of international organizations on humanitarian assistance to refugees and IDPs in our country. The importance of the projects implemented by the USA in this direction was highlighted and gratitude was expressed.   
American guests thanked for the warm welcome. It was noted that the main purpose of the visit was to further raise awareness about the importance of bilateral and multilateral cooperation between Azerbaijan and the United States, as well as common interests with the United States, including cooperation in the areas of energy security, defense, security, fight against terrorism and extremism, participation in international peacekeeping operations, tolerance in our country, traditions of multiculturalism, Armenia`s military aggression against Azerbaijan and its consequences in the US Congress members and their assistants.    
Employees of the Embassy of the Republic of Azerbaijan in the United States of America, as well as officials of the State Committee attended the meeting along with the the US Congress members` assistants. 
Views were exchanged on the issues of mutual interest at the meeting.