A meeting was held with representatives of the World Bank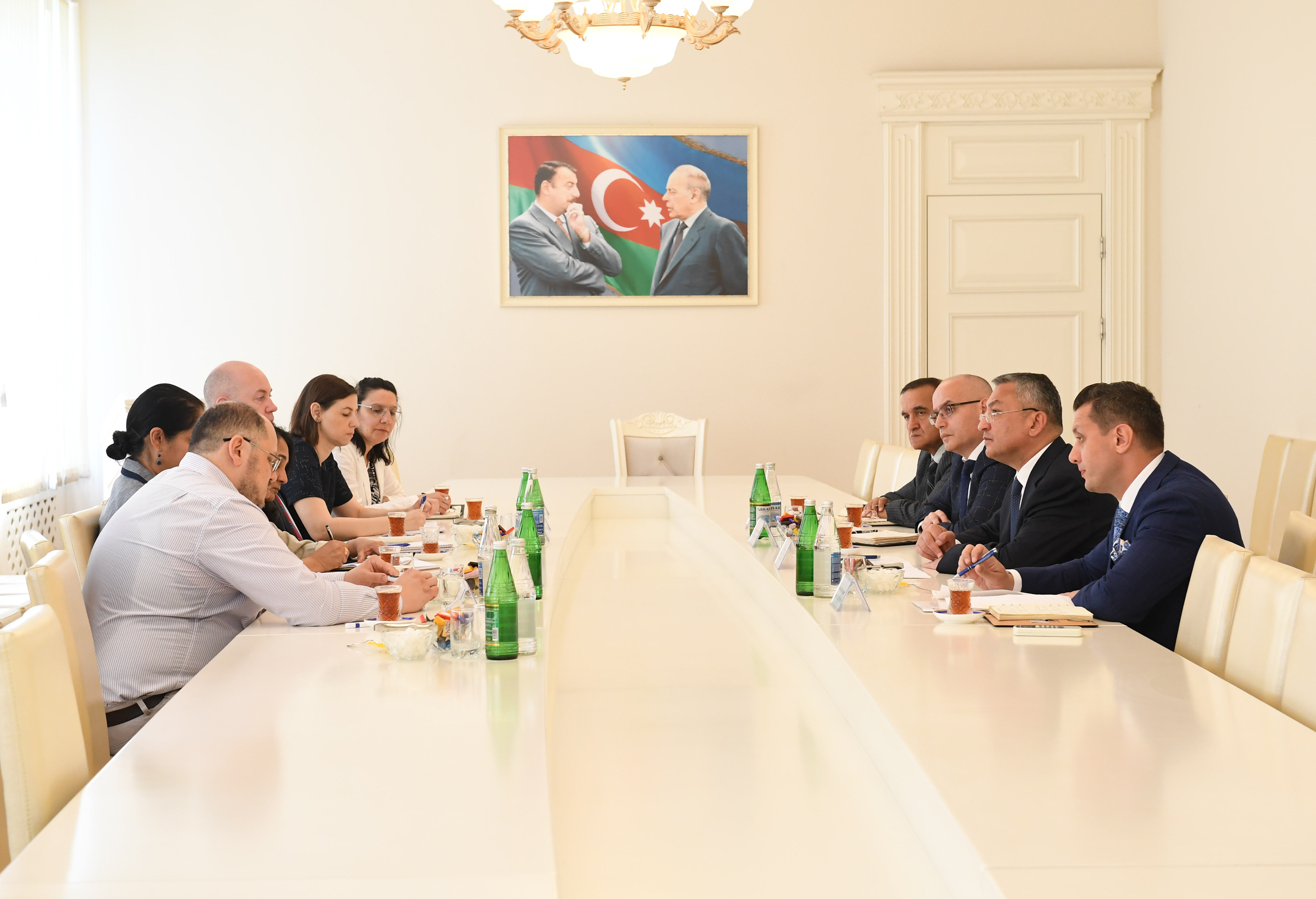 Chairman of the State Committee for Affairs of Refugees and Internally Displaced Persons Rovshan Rzayev met with Varalakshimi Vemuru, World Bank (WB) internship manager Global Social Sustainability and Inclusion Activities Manager in Europe and Central Asia, Eric Johnson and Sofia Georgieva Chief Social Development Specialists, Sarah Michael WB Regional Director for Azerbaijan, Sabina Majidova program assistant on June 17.
Information was given about the social development line implemented in our country under the leadership of President Ilham Aliyev, as well as the state policy on work with IDPs. It was noted that important work was done to improve the living conditions of citizens of this category, strengthen social protection, increase their employment. It was noted that first vice-president Mehriban Aliyeva pays special attention and care to the solution of social problems of Internally Displaced Persons.
It was brought to the attention that for many years preparations were made for the return of people displaced from the native land to the liberated territories on the basis of the principles of voluntary, security and provision of decent living conditions. It was emphasized that the Coordination Headquarters created by the head of state is doing the necessary work in this direction in order to solve socio-economic, humanitarian, organizational and other urgent issues in the liberated territories, as well as to coordinate activities in this area.
The support of international organizations in solving the problems of refugees and IDPs in our country was recalled with a sense of satisfaction, including the importance of cooperation with the World Bank. It was expressed confidence that the expansion of cooperation between the Government of Azerbaijan and the World Bank will contribute to the successful implementation of the return to the liberated territories. It was noted that the grant project "Research, analysis and capacity building for restoration and peace-building in Azerbaijan" implemented by the International Bank for Reconstruction and Development within the framework of cooperation with the State Committee for Affairs of refugees and IDPs within the World Bank will have a very positive impact on increasing employment opportunities of IDPs who will return to their homes in the near future.
The representatives of the World Bank expressed their gratitude for the sincere meeting and detailed information, expressed their satisfaction with the cooperation with our country, highly appreciated the work carried out in connection with the return of IDPs to the liberated territories, and noted that the international financial institution they represent will increase their support for this process.
At the meeting, issues of mutual interest were discussed and questions of the guests were answered.