30 years have passed since the massacre committed in Kalbajar region Aghdaban village.
Mətbuat xidmətinin məlumatı
08 April, 2022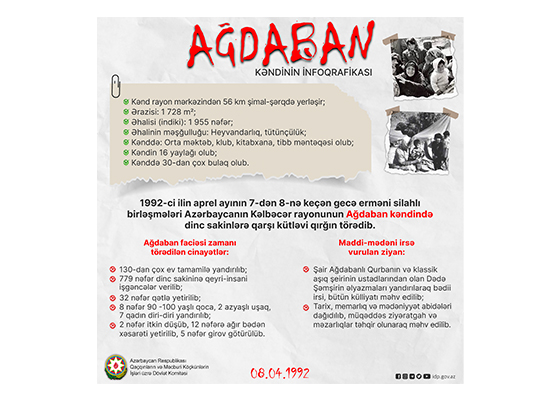 State Committee for Affairs of Refugees and IDPs has made video material and infographics related to the massacre committed by Armenians in Kalbajar region Aghdaban village 30 years ago.
 
In the video, the residents of Aghdaban village produced the information about the tragedy they had witnessed, and talked about how Armenians brutally killed even women, old people and underages.
 
The information about territory, population of Aghdaban village and their main employment was given in the infographics. At the same time, the information on statistics of the crimes committed as a result of the occupation of the village and damage to material and cultural heritage was posted.
 
It should be noted that the tragedy was committed by Armenians in Kalbajar region Aghdaban village on the night of April 7 to 8, 1992. During the tragedy committed against the civilians, 67 people were killed, 8 people aged 90 – 100, 2 underage children and 7 women were burned alive. 2 persons disappeared completely, 12 people were seriously injured, 5 people were captured. 779 civilians were subjected to inhuman tortures. More than 130 houses were completely burnt.
 
Great leader Heydar Aliyev who had given the first legal and political assessment to this tragedy, called the events in Aghdaban the biggest crime committed against the humanity and characterized it as a shame for the humanity.