Deputy Chairman of the State Committee made a speech at the 72nd session of the Executive Committee of the UN High Commissioner for Refugees.
Mətbuat xidmətinin məlumatı
06 October, 2021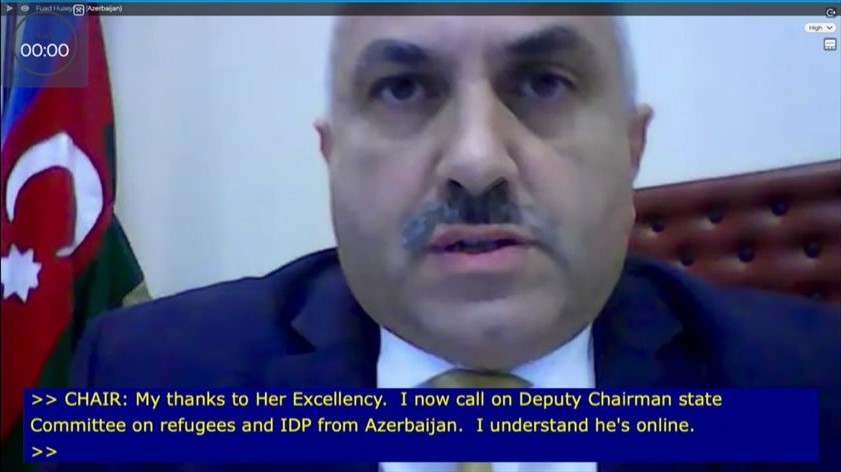 Deputy Chairman of the State Committee for Affairs of Refugees and Internally Displaced Persons Fuad Huseynov made a speech at the 72nd session of the Executive Committee of the UN High Commissioner for Refugees on behalf of Azerbaijan delegation.
The session participants were informed on the aggression and deportation policy of Armenia and becoming more than 1 million internally displaced persons in Azerbaijan as a result. It was noted that affairs of refugees and internally displaced persons are one of main directions of the state policy in the social sphere of our country under the leadership of President Ilham Aliyev and always special attention is paid to the solution of their social issues. The First Vice President Mehriban Aliyeva is more sensitive and careful for the people of such categories.
It was noted that Azerbaijan Army started counter-attack operations in response to the following provocation of Armenia on September, 2020. The victory in the 44-day Patriotic War put an end to the resolution of the conflict lasting for about 30 years.
By the Decree of President Ilham Aliyev Karabakh and Eastern Zangazur economic regions were created. Issues on the economic growth of our country were provided in the "Azerbaijan 2030: National Priorities for Socio-Economic Development".
Moreover, it was stated that Armenia has mined large scale of occupied Azerbaijani territories, even non-military territories for about 30 years. So far Armenia has been refusing the map of mined lands and grossly violating fundamental human rights, especially the right to life.
Azerbaijan makes serious efforts to fulfil all international liabilities on migration and refugee issues in the fair and constructive cooperation and is ready to continue cooperation with UNHCR and other international partners. Azerbaijan plans to implement the return process of refugees and IDPs in the volunteer, safe and dignified manner in accordance with the tripartite statement of November 10, 2020 with the support of the UNHCR and on the basis of norms and principles of international law, especially respect for the sovereignty and territorial integrity of states.