Chairman of the State Committee met with the employees who participated in the Patriotic War
Tədbirlər
21 January, 2021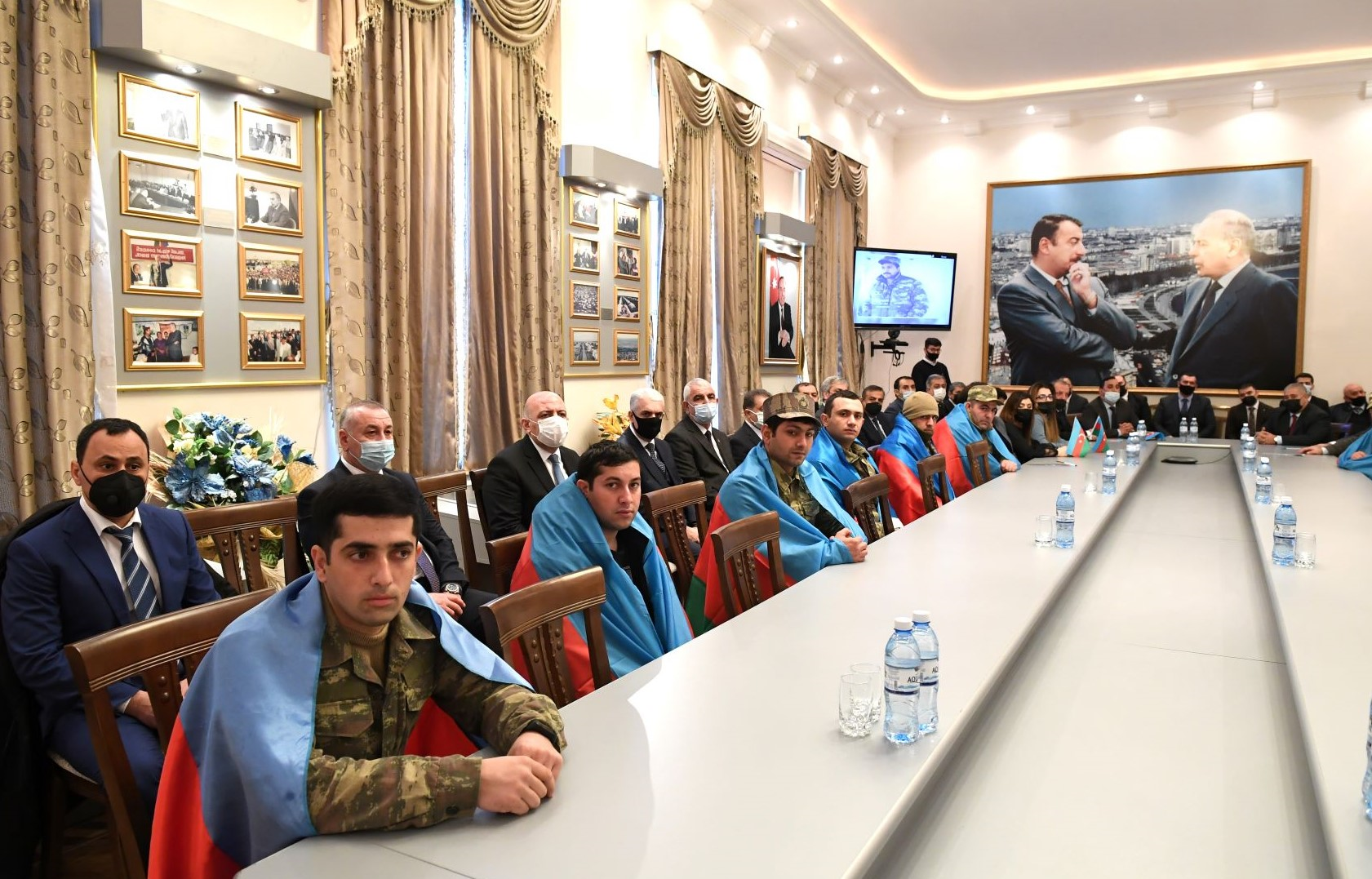 13 employees of different structures of the State Committee for Refugees and IDPs participated in the counter-offensive operation "Iron Fist" carried out by our brave army under the leadership of the President of the Republic of Azerbaijan, Triumphant Supreme Commander-in-Chief Ilham Aliyev. 
All these brave and patriotic young people, who voluntarily joined the ranks of the Armed Forces during military mobilization, returned to their jobs after their discharge from military service.
A meeting was held at the State Committee with the participants of the Patriotic War, who contributed to the great victory over the enemy. Chairman of the Committee Rovshan Rzayev congratulated them on the victory and thanked each of them for their sacrifice for the liberation of our lands.
The martyrs who sacrificed their lives for our people were respectfully commemorated. 
Restoration of the territorial integrity and sovereignty of our country and provision of favorable conditions for IDPs who have been homesick for nearly thirty years to return to their homeland thank to the wise and decisive policy, military and diplomatic skills of the President, Triumphant Supreme Commander-in-Chief Ilham Aliyev were celebrated with joy and pride. It was underlined that the President Ilham Aliyev and First Vice President Mehriban Aliyeva pay particular attention and care to the families of martyrs, the disabled and war veterans. The social protection of our citizens from these categories is constantly being strengthened. It was emphasized that the IDPs very welcomed the decision of the President to give the new residential areas built by the order of the committee to the families of martyrs. They will soon return to their native lands to be restored and reconstructed and begin a new life in their ancestral lands.
It was noted that various state awards being conferred to the employees of the Committee for their bravery in military operations made the staff proud.
Letters of appreciation and valuable gifts were presented to the participants of the Patriotic War Nijat Jalilov, Ali Habibzada, Toghrul Aliyev, Eyvaz Novruzov, Omur Mehdili, Ilgar Guliyev, Bayram Valiyev, Mubariz Aliyev, Elshan Valiyarzada, Arif Abbasov, Elshad Shirinov, Zamig Jafarov, Elkhan Khankishiyev, as well as to 5 people for their services at the rear - Advisor to the Chairman of the Committee Nasimi Narimanov, Deputy Head of the Migration, Settlement, Status and Social Security Department Khayyam Huseynov, Head of Fuzuli Region Sector Elmir Allahyarov, Head of Tartar Region Sector Mohlat Nazarov, Deputy Director of the Housing Maintenance Department Azer Eminov at the meeting.
Employees of the committee, who heroically served on the front and rear lines in the Patriotic War, said that they will continue to work with great responsibility for the strengthening of our state, prosperity of our country, revival of native Karabakh and welfare of our people.